"TAB Guitar School 10th Anniversary Concerts"(Aug. 4th-8th, 2001)
Thank you very much for your coming!
---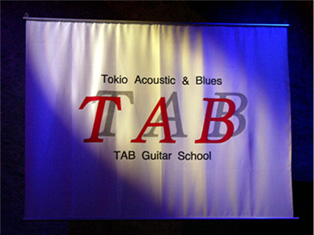 TAB Guitar School celebrated our 10th anniversary in July 2001 since I had established it in 1991. In addition to a guitar school, we started the video/CD label in 1994 and since then we have released a lot of products for the Japanese market. Also, we have organized the Japanese tours of great American & European acoustic guitarists. We are confident that our activities have contributed to the Japanese acoustic music scene. Anyway, looking back at these 10 years, we experienced various things. But it is wholly owing to your support that we have been able to do well so far. I really thank you all from the bottom of my heart.
"TAB Guitar School 10th Anniversary Concerts" were the events for our 10th anniversary celebration and for our thankfulness to you all who had supported us. The performers were the well-known TAB artists: me(Tokio Uchida), Aki, Takashi Hamada and Duck Baker. Duck is one of the greatest fingerpickers in the world and now he is familiar to Japanese acoustic fans because we featured him at our former concerts several times. I believe that all of the audience enjoyed the stages. And Stefan Grossman, who taught me the guitar and is a business partner, sent me the message for our 10th anniversary and I introduced it to the audience on the stages.
We presented "TAB 10th Anniversary" fan as a commemorative to all of the audience. We made a limited quantity of this fan. Though we used it as a free gift for the 10th anniversary thankful sale of our mail order, it is a rare item. On the back of the fan, various happenings are introduced as "the 10-year history of TAB Guitar School". In fact we had more happenings that we don't need to introduce or can't introduce. Although in those ways only noncommittal things were introduced, please read them when you get spare time, and you can know our activities in detail.
We will head for next ten years and plan such conerts and products pleasing you all. Please support our activity for the future continually.
Tokio Uchida / TAB Guitar School (Aug. 2001)
*Some photos of TAB 10th Anniversary Concerts were uploaded. If you want to look at them, please click "Photo1-15" below.
---
Photo 1¥¥¥The waiting at Star Pine's Cafe till the show starts (Aug. 4th, 2001)

Photo 2¥¥¥Tokio's greeting, holding "TAB 10th anniversary fan" (Aug. 4th, 2001)

Photo 3¥¥¥Top of the order AKI's performances (Aug. 4th, 2001)

Photo 4¥¥¥We never dreamed that we might listen to AKI's vocal!! (Aug. 4th, 2001)

Photo 5¥¥¥Next performer was "Ragtime Monster" Takashi Hamada. (Aug. 4th, 2001)

Photo 6¥¥¥After a break, Tokio Uchida appeared for the 2nd part of the show. (Aug. 4th, 2001)

Photo 7¥¥¥Last performer Duck Baker appeared (Aug. 4th, 2001)

Photo 8¥¥¥Duck liked "TAB 10th anniversary fan" (Aug. 4th, 2001)

Photo 9¥¥¥Tokio and Duck's guitar duos for the last part of the show (Aug. 4th, 2001)

Photo 10¥¥¥The customary autograph session after the show (Aug. 4th, 2001)

Photo 11¥¥¥Takashi and Duck who are relieved after the autograph session (Aug. 4th, 2001)

Photo 12¥¥¥The party after the show. "Cheers!!" (Aug. 4th, 2001)

Photo 13¥¥¥A scene at Minoya Hall in Osaka (Aug. 5th, 2001)

Photo 14¥¥¥After all, Okonomiyaki at the Osaka night (Aug. 5th, 2001)

Photo 15¥¥¥Duck's shoulders are chronically stiff!! (Aug. 8th, 2001)
---
TAB Guitar School
Hiranuma Bldg. 3f, 13-1 Hatagaya 2-chome,
Shibuya-ku, Tokyo, 151-0072 Japan
TEL: 03-5350-3509 / FAX: 03-3372-6465