"Pierre Bensusan Japan Tour 2001"(Oct. 31st-Nov.4th, 2001)
Thank you very much for your coming!
---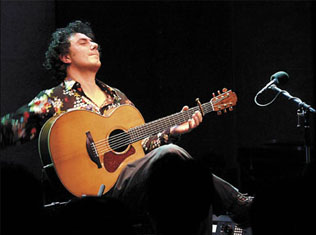 "Magician of DADGAD Tuning" Pierre Bensusan came to Japan for TAB Guitar School Concert. It has been thirteen years since he came to Japan last time. Moreover, actually this is the first time for him to visit Japan for the purpose of concert tour. He has a big talent and he is so popular among the acoustic guitar fans. We are honored that we organized his first Japan Tour ourselves.

I saw his performance in Japan when he visited Japan for the sales promotion of his CD before. Plus 15 years ago I saw his concert in New York. Nobody could imagine that he played one acoustic guitar and showed a dynamic and great power of expression. His performance held the audience spellbound and it was so impressive.

I never thought that we could produce his concert. Pierre just released a new album "Intuite" (released by Victor in Japan) and was planning his World Tour. At that time he knew our activity and asked us "Can you make a plan of my Japan Tour?" His Japan Tour was produced in this way. His performances in Tokyo, Osaka and Nagoya were marvelous as many of his fans, who had been looking forward to his concert, expected. The opening actor was Aki who had just released his new album "Acoustic Rock Guitar" by TAB Label. The people who came to our concerts must have enjoyed acoustic guitar world fully.

TAB Guitar School is going to make the various plans as you can enjoy. Please support our activity for the future continually.

Tokio Uchida / TAB Guitar School (Nov. 2001)

*Some photos of Pierre Bensusa Japan Tour 2001 were uploaded. If you want to look at them, please click "Photo1-16" below.
---
Photo 1"""Tokio & Pierre at the office of TAB Guitar School. (Oct. 29th, 2001)

Photo 2"""At the 1st concert in Tokyo -1. Tokio hosted the show. (Oct. 31st, 2001)

Photo 3"""At the 1st concert in Tokyo -2. Opening Actor Aki's performance. (Oct. 31st, 2001)

Photo 4"""At the 1st concert in Tokyo -3. Pierre appeared!! (Oct. 31st, 2001)

Photo 5"""At the 1st concert in Tokyo -4. Pierre's performance #1. (Oct. 31st, 2001)

Photo 6"""At the 1st concert in Tokyo -5. Pierre's performance #2. (Oct. 31st, 2001)

Photo 7"""At the 1st concert in Tokyo -6. Pierre gave his signature to his feminine fan. (Oct. 31st, 2001)

Photo 8"""Pierre & Aki at the hotel in Osaka. (Nov. 3rd, 2001)

Photo 9"""At the platform of Shinkansen(Very Fast Train). Pierre practiced there!! (Nov. 3rd, 2001)

Photo 10"""The memorial shot at the platform of Shinkansen. (Nov. 3rd, 2001)

Photo 11"""At the last concert in Tokyo -1. Of course, full house!! (Nov. 4th, 2001)

Photo 12"""At the last concert in Tokyo -2. Pierre's performance #1. (Nov. 4th, 2001)

Photo 13"""At the last concert in Tokyo -3. Pierre's performance #2. (Nov. 4th, 2001)

Photo 14"""At the last concert in Tokyo -4. Endless plaudit! (Nov. 4th, 2001)

Photo 15"""At the last concert in Tokyo -5. Encores were 4 times!!! (Nov. 4th, 2001)

Photo 16"""At the last concert in Tokyo -6. Pierre took a snapshot of the audience from the stage. (Nov. 4th, 2001)
---
TAB Guitar School
Hiranuma Bldg. 3f, 13-1 Hatagaya 2-chome,
Shibuya-ku, Tokyo, 151-0072 Japan
TEL: 03-5350-3509 / FAX: 03-3372-6465