---
< CD lessons > Fingerpicking Blues Guitar (w/ 6 CDs)
---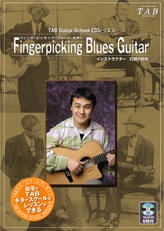 Taught by Tokio Uchida
- You can take lessons by TAB Guitar School at home !! -
¥These six CD lessons are taught by Tokio Uchida known as the writer of "real acoustic guitar/ Country Blues"(Rittor Music), etc.. In each lesson, he performes some demonstrations and carefully explains the fingering, variations and so on. The lessons given slowly phrase by phrase are as if you have lessons of TAB guitar school at home! (taught in Japanese)
¥In this series of six CDs, various fingerpicking blues guitar styles like monotonic & alternating bass, shuffle & boogie-woogie, Delta blues, ragtime blues, etc. are taught as the guitar instrumentals.
= MAIN CONTENTS & EXAMPLES =
<< CD 1 >> Monotonic Bass Style: This first lesson features the examples for which monotonic bass, a basic thumb backing approach, is used in the styles of Robert Johnson and of Mance Lipscomb. And also you'll learn the mute technique, the variation phrases of each song and the end tags in G & A, etc.. ¥"Love In Vain" Style ¥Mance Lipscomb's Monotonic G Play ¥"32-20 Blues" Style ¥Boogie Of Mance Lipscomb
<< CD 2 >> Alternating Bass Style: In the second lesson, you'll learn the examples for which alternating bass of Mississippi John Hurt are used. This lessson features the orthodox approach for which the normal positions are used in the key of C, the the unique approaches in C for which the fake bass trick are used and the characteristic approaches in the key of G & E. And also the end tag variations in C are featured. ¥J.Hurt's Happy Blues In C ¥"Spider Spider" Style ¥Here Am I, Oh Lord, Send Me ¥Nostalgia For Avalon
<< CD 3 >> Shuffle & Boogie-Woogie: This lesson features the suffle bass into which monotonic bass grew and the walking bass which is an adaptation of boogie. We'll explore some blues in E in detail, from Linghtnin Hopkins' pentatonic phrasing to unique ideas of Robert Johnson & Robert Jr.Lockwood. ¥Shuffle Of Lightnin' Hopkins ¥Bluse In E Of Robert Johnson & Lockwood
<< CD 4 >> Delta Blues: In the fourth lesson, you'll learn the unique Delta blues ideas and approaches from Charlie Patton's percussive pounding bass, the snapping bass and the struming to Skip James' haunting sound for which the minor tunig are used. ¥Pounding Blues Of Charley Patton ¥Haunting Blues Of Skip James ¥Crossnote Skippy Blues
<< CD 5 >> Ragtime Blues: In the fifth lesson, the guitar styles of two great ragtime bluesmen Blind Blake and Blind Boy Fuller are explored. The techniques like ultimate stumbling bass, single-note-passage variation, three-finger roll, etc. are explained in detail. ¥Rag For Blind Boy Fuller ¥Blind Blake's Stumbling Rag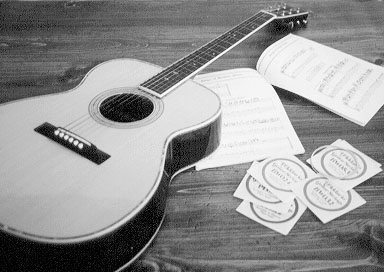 << CD 6 >> Advanced Blues Solos: Though Rev. Gary Davis and Lonnie Johnson differed from each other in thier sounds and approaches, both of them are the legendary bluesmen who could play the guitar at will. The sixth lesson features the guitar styles of this two greats and you'll learn the examples for which the syncopation and the improvisational passage are used. ¥Tribute To Rev.Gary Davis ¥Lnnie Johnson's Dazzling Blues

*64 page tab & music book (A4 size) with six 60 min CDs
<TAB-L1> price 3,300 yen
---
< CD lessons > Fingerpicking Essential Techniques
- galloping style - (w/ 3 CDs)
---
Taught by Tokio Uchida
¥The splendid "galloping style" represented by Chet Atkins and Tommy Emmanuel has always been a longing for guitarists and is a must-have technique for finger picking. Master the "thumb" technique, focusing on simple country and folk masterpieces.
¥The attached CDs provide detailed and detailed explanations of fingering and variations, including demo performances. You can proceed little by little at your own pace every day, just as if you were taking TAB guitar school lessons at home(taught in Japanese). With 3 12cm CDs! (Recording 60 to 70 minutes for each CD)j
= MAIN CONTENTS & EXAMPLES =
<< CD 1 >> The Independence And Picking Control Of Right Thumb: Through the practice songs, you will develop a sense of independence between the right thumb and other fingers, which are the basics of finger picking. With the simple folk number "Skip To My Lou" that is played with 2 chords, you will practice keeping the basic alternating bass and adding variations such as syncopation of the treble side, as well as adding the moving bass line. The following "Evolutional Thumb Blues" is, as the name suggests, a challenging tune that keeps the same melody on the treble side and evolves the bass line played with the thumb in various ways. With "The Theme of TAB", you will learn the thumb syncopation and the thumb picking control for open high chords.
¥Skip To My Lou ¥Evolutional Thumb Blues ¥The Theme of TAB
<< CD 2 >> Folk Rag And Open High Chord Sound: You will learn the folk rags arranged based on traditional melodies and the melodious practice song using open-high chords. "Red River Valley" and "When The Saints Go Marching In" are familiar and simple melody folk numbers, but by using the ideas learned in Lesson 1, you can make them the solo arrangements that should be called "folk rag". "Go Fly-Fishing" is an A key instrumental based on the idea of ??open high chords that beautifully resonate the sound of an acoustic guitar. Along with controlling the syncopation of the thumb, you will learn correct picking of each finger with accurate string selection.
¥Red River Valley ¥When The Saints Go Marching In ¥Go Fly-Fishing
<< CD 3 >> Galloping Style And Variation Sections: We will try the galloping style masterpieces that have become popular in the world of country finger style guitar. "Windy and Warm", which is familiar for the famous performances of Chet Atkins and Doc Watson, is a melodious and unique number that includes modulation between A minor and A major. While maintaining the outline of the original song, it is an arrangement that incorporates new ideas. In "Nine Pound Hammer" and "I'll See You In My Dreams" which are well known by Merle Travis's performances, you will also learn how to develop the tunes to the variation sections based on the basic themes and their chord progressions.B
¥Windy and Warm ¥Nine Pound Hammer ¥I'll See You In My Dreams

*56 page tab & music book (A4 size) with three 60-70 min CDs
<TAB-L3> price 3,300 yen
---