---
Tokio Uchida's Profile
---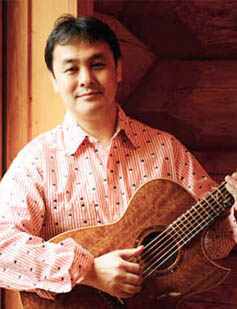 Tokio Uchida was born in 1958 in Yokkaichi-shi, Mie, Japan. He studied under country blues guitar maestro Stefan Grossman, and appeared as a guest at Stefan's live concert in Los Angeles in 1987. Since then, he has been working hard to spread the appeal of "country blues" and "fingerstyle guitar," which were unfamiliar in Japan at the time, by articles for music magazines, instructional books, live clinics, CDs, and contributing songs to the media. His books "The Essences of Acoustic Fingerstyle Blues Guitar (w/DVD)" (1997) and "Country Blues" (1993), both published by Rittor Music, were big hits and long sellers.
In 2007, CD "Bermuda Triangle Exit", the duet album with his teacher Stefan Grossman, was released in the US. Overseas, he has performed in the U.S., France, and China. In October 2011, he performed in Greenwood, Mississippi at the "Robert Johnson 100th Birthday Festival" organized by radio station WABG. In addition, he continued to hold joint Japan tours with world-famous guitarists from Europe and the United States, including Stefan, John Renbourn, Bob Brozman, and so on.
The theme song for the TV program "Fly Fishing Area Guide", Tokio's composition "Memory Of Trout Fishing" (1998), had a beautiful Irish flavor and became a nationwide sensation. He always carries three or four guitars with him, including a six-string acoustic guitar, a resonator guitar, and a 12-string guitar, and is actively touring for live concerts throughout Japan. His motto is to put on a fun show that will bring smiles to the faces of the audience. His music is very original and lyrical, which also is rooted in various roots music and at the same time constantly challenge the possibilities of guitar music. He is also famous as a pro-wrestling fan, and of course he talks about pro-wrestling on stage, and many of his songs are inspired by pro-wrestling.
He has released many CDs, music books, instructional books, and DVDs up to now. And his signature guitars were released from Morris Guitars, which are SC-123U & SC-16U (in 2014) and SC-145U & SC-32U (in 2020). He is also known for the supervision of TAB thumb pick and Giant Bone Bar (Shinjo Co. Ltd) which are very popular among guitar players.
■Tokio Uchida website (Japanese Pages) ■Tokio's blog ■Facebook Page ★Tokio's Gear
■YouTube Channel ■X (twitter) ■instagram ★Page of Tokio's CDs, books, and DVDs
---
"Tokio Uchida is Japan's leading fingerstyle guitarist. His playing is soulful and most importantly, very original and adventurous. I have heard nearly every fingerstyle guitarist in the world, and Tokio has the most perfect sense of groove, while having a distinctive and original sound. His brilliant and sensitive original compositions for guitar reach back to the roots while going forward to the front edge of new guitar music. We have played together many times, and it is always a pleasure!" - Bob Brozman
"I've known Tokio for many years. He is a great guitarist who has taken American guitar styles and techniques and has merged these with his own individual Japanese perspectives to create evocative and exciting instrumentals. He has a highly individual style that continues to develop and evolve. Tokio is that rare musician who can perform as well as teach." - Stefan Grossman
"I love Tokio Uchida's music. His playing is moving, lyrical, soulful and impeccable. He is great fun to play duets with. Tokio is a master musician." - Ernie Hawkins
---