---
Tokio Uchida's Profile
---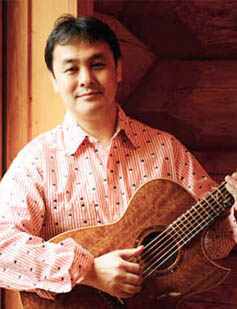 Tokio Uchida was born in 1958 in Yokkaichi-shi, Mie, Japan. He learned a lot from fingerstyle & country blues guitar authority Stefan Grossman when he was young. Since then he has played an important role in Japanese acoustic guitar scene as a professional fingerstyle guitarist who has the real taste of blues and ragtime music.
His activities ranges from touring all over Japan for concerts, recording at the studios, writing for magazines and instructional books to teaching at TAB Guitar School which he established in1991. Also, he is one of the essential guitarists for a lot of music festivals such as Moridaira Fingerpicking Day, Martin Club Concerts etc. He released a lot of CDs and DVDs which were highly esteemed in Japan. Some of them are such CDs as "Memory Of Trout Fishing" and "Acoustic Delights" and such DVDs as "Blues de Healing" and " The Essences of Acoustic Blues Guitar Vol.1 and 2".
For many years he has organized the joint live tours with such oversea great guitarists as Stefan Grossman, John Renbourn, Bob Brozman, Duck Baker, Woody Mann, Pat Donohue, Ernie Hawkins, Tony McManus, etc. So, the interchange with foreign musicians are an important part for his activities, too. He had concerts and workshops in China and his tune was included on the CD "Resophonic Players Of Europe 2005" as a bonus track, which was released in Europe. Also, the duet CD "Bermuda Triangle Exit" with Stefan was released in 2007. In 2008 he toured in USA with Stefan Grossman and had the France tour (in Paris with Michel Haumont and the solo concert in Marseille). His activities are now international. In Oct. 2011 he played for "Robert Johnson 100th Anniversary Rememberance Festival" which was held in Greenwood, Mississippi.
■Tokio Uchida website ■Tokio's blog ■Profile Photo Page
■Facebook Page ■YouTube Channel ■twitter ■MySpace Page
★Page of Tokio's CDs, books, and DVDs ★Tokio's Gear
---
"Tokio Uchida is Japan's leading fingerstyle guitarist. His playing is soulful and most importantly, very original and adventurous. I have heard nearly every fingerstyle guitarist in the world, and Tokio has the most perfect sense of groove, while having a distinctive and original sound. His brilliant and sensitive original compositions for guitar reach back to the roots while going forward to the front edge of new guitar music. We have played together many times, and it is always a pleasure!" - Bob Brozman
"I've known Tokio for many years. He is a great guitarist who has taken American guitar styles and techniques and has merged these with his own individual Japanese perspectives to create evocative and exciting instrumentals. He has a highly individual style that continues to develop and evolve. Tokio is that rare musician who can perform as well as teach." - Stefan Grossman
"I love Tokio Uchida's music. His playing is moving, lyrical, soulful and impeccable. He is great fun to play duets with. Tokio is a master musician." - Ernie Hawkins