Ernie Hawkins & Tokio Uchida
"Acoustic Blues Live"(June 22nd-26th, 2002)
Thank you very much for your coming!
---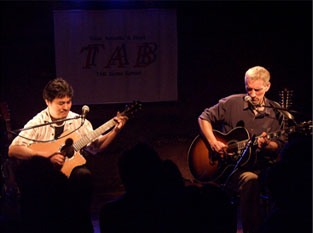 Rev. Gary Davis is adored by a lot of fingerpickers. He taught his guitar techniques to young guitarists in his later years. Stefan Grossman, Davis Bromberg, Ry Cooder, Dave Van Ronk, Woody Mann....they are the few of his students. Ernie was one of them, too. He learnt Davis' music and guitar playing deeply and he was very close to Davis.

For some period Ernie played an electric guitar as the member of Blue Bombers, but now the solo performances are his main activities. And he is a key artist for some blues festivals. Or you might know of him as he was featured for Maria Muldaur's album "Richland Women Blues". Our TAB Guitar School has released his instructional videos: "The Guitar Of Lightnin' Hopkins", "The Guitar Of Mance Lipscomb Vol.1 & 2" and "The Guitar Of Blind Willie McTell".

I hear that Ernie hitchhiked to Atlanta to look for Blind Willie McTell when he was young. That means he has had a very inquiring mind, and this made him the genuine guitarist. His sounds and grooves are fairly close to the legendary country bluesmen such as Rev. Gary Davis and Mance Lipscomb. He uses medium gauge strings, thumb pick and finger picks, and plays his guitar mainly with two fingers (thumb and index finger) and sometimes features right hand brushing techniques. Guitarists who play with this kind of style are really rare. As almost all legendary black country bluesmen already passed away, he is a very precious artist, I think.

This was his first visit to Japan. He is a gentlemanly "nice guy", although that kind of expression might be impolite because he is ten years older than I. Anyway, I think he and his wife Nancy enjoyed this tour. Of course, we enjoyed very much, too.

TAB Guitar School is going to make the various plans as you can enjoy. Please support our activity for the future continually.

Tokio Uchida / TAB Guitar School (July. 2002)

*Some photos of Ernie & Tokio's "Acoustic Blues Live" tour were uploaded. If you want to look at them, please click "Photo1-16" below.
---
Photo 1¥¥¥Ernie Hawkins "Blues Guitar Workshop" at Shimamura Instrument Tsudanuma shop. (June 22nd, 2002)

Photo 2¥¥¥The memorial shot with TAB bread. This is a kind of ceremony for the foreign guitarist who has visited here for the first time. (June 23rd, 2002)

Photo 3¥¥¥Tokio's solo performance at Mandala2 in Tokyo. (June 23rd, 2002)

Photo 4¥¥¥Ernie's solo performance #1 at Mandala2 in Tokyo. (June 23rd, 2002)

Photo 5¥¥¥Ernie's solo performance #2 at Mandala2 in Tokyo. (June 23rd, 2002)

Photo 6¥¥¥Ernie and Tokio's blues guitar duets at Mandala2 in Tokyo. (June 23rd, 2002)

Photo 7¥¥¥The customary autograph session after the show. (June 23rd, 2002)

Photo 8¥¥¥The party after the concert. "Cheers!!" (June 23rd, 2002)

Photo 9¥¥¥In Nagoya we visited the nearby temple before the concert. (June 25th, 2002)

Photo 10¥¥¥Ernie and Nancy were sitting erect and gazing at the garden which was kept up. (June 25th, 2002)

Photo 11¥¥¥The shot of them sitting erect taken from the opposite side. (June 25th, 2002)

Photo 12¥¥¥Ernie and Tokio's blues guitar duets at Tokuzo in Nagoya. (June 25th, 2002)

Photo 13¥¥¥Ernie's solo performance at Minoya Hall in Osaka. (June 26th, 2002)

Photo 14¥¥¥Ernie and Tokio's blues guitar duets at Minoya Hall in Osaka. (June 26th, 2002)

Photo 15¥¥¥A festival fan & a bottle of wine were presented by the beautiful lady. (June 26th, 2002)

Photo 16¥¥¥The snapshot at Kansai airport where Ernie & Nancy would fly to return to U.S.A. (June 27th, 2002)
---
TAB Guitar School
Hiranuma Bldg. 3f, 13-1 Hatagaya 2-chome,
Shibuya-ku, Tokyo, 151-0072 Japan
TEL: 03-5350-3509 / FAX: 03-3372-6465