–Tokio's Japanese web site is here!!!
* Sorry for the less information than the Japanese pagse.

* Please see here for ordering.

Presented by TAB, Ltd.
= = Tokio's Recent Works = =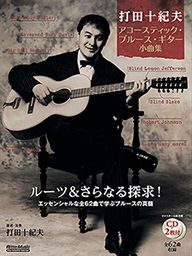 new!!!
Tokio Uchida
Acoustic Blues Guitar Works (w/ 2CDs)
Wirtten (in Japanese) and performed by Tokio Uchida
Published by Rittor Music in 2022 / 192 pages / with 2CDs.
<<<--- Click the cover photo for the detail.
TAB, Ltd.
Sun Hills 207, 42-1 Higashi-cho 4-chome, Koganei-shi, Tokyo, 184-0011 Japan
E-mail: here