---
Legacy of Country Fingerstyle Guitar Vol. 1
---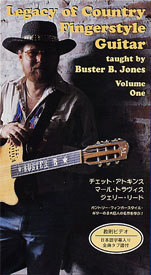 Taught by Buster B. Jones
The great historical performances
by Chet, Travis and Reed are investigated!
¥The legacy that Merle Travis, Chet Atkins and Jerry Reed have had on country fingerstyle guitar has influenced generations of guitarists. They have left an impressive body of work encompassing various styles, techniques and arrangements. In this unique video lesson, Buster B. Jones who is today's number one country fingerpicker presents some tunes from the repertoire of all three of these giants. Buster also explores the differences in how each of these giants might have approached arranging and playing a tune.
*
VHS / Color/ with tab/music of all tunes / 68-min
Titles include: Sitting On Top Of The World, Mr. Sandman, Bye Bye Blues, Yankee Doodle / Dixie, Bye Bye My Bluebell, Stump Water, Wabash Cannonball
< TAB-00062 > price with tax 5,460 yen (Price without tax 5,200 yen)
---
Legacy of Country Fingerstyle Guitar Vol. 2
---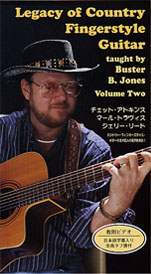 Taught by Buster B. Jones
This is the second of this series for learning
the essences for country fingerstyele guitar!
¥In the second of this series which is dedicated to the styles, teqchniques and musics of three guitar giants Chet Atkins, Merle Travis and Jerry Reed, five instrumental arrangements that were their trademarks investigated. All tunes are no less attractive than volume one. Of course, this is taught by today's best country fingerpicker, Buster B. Jones. He explains in detail how the giants approached their arrangements and plyaings and how to combine their tecniques to develop your own sounds and styles.
*
VHS / Color / with tab/music of all tunes / 73-min
Titles include: I'll See You In My Dreams, Me and Bobby McGee, Lady Madonna, Struttin', All I Need Is You Babe

< TAB-00063 > price with tax 5,460 yen (Price without tax 5,200 yen)