---
The Guitar of Chet Atkins
---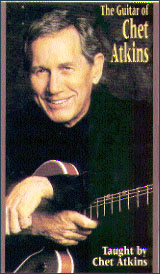 Taught by Chet Atkins
"In this unique and powerful video lesson, Chet performs and explains in detail phrase by phrase his nine popular arrangements. The contents are for intermediate and advanced fingerstyle guitarists. You can learn all of Chet's techniques: rythmical galoping, beautiful harmonics, boogie-woogie counterpoint bass lines and so on. And you can master such nine famous tunes as: "When You Wish Upon A Star" known as the theme song of films "Pinokio", "Londonderry Aire", "Mr.Bo Jangles" and so on!
""Someone once asked me to estimate how many guitar lessonns I've had in my lifetime," Chet has said. "The answer is simple - none. There were no teachers in our neighborhood when I was learning. And if there had been I doubt whether they would have taught me with that with that shabby guitar of mine. But I kept a lookout for any stray 'picker' that wandered into town and if he knew any new runs I would learn them before he left." You are lucky because the instructer of this video is the greatest topliner of fingerstyle guitar. Have fun!
*
VHS / color / with tab/music of all tunes / 84-min
Titles include: Maybesse, Petite Walts, Happy Again, Londonderry Aire, When You Wish Upon A Star, Young Thing, Bye Bye Blackbird, Mr. Bo Jangles and Lover Come Back
< TAMT-00014 > price with tax 6,090 yen (price without tax 5,800 yen)
Get Started On Guitar
---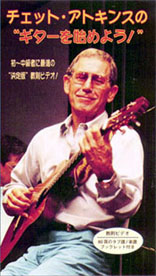 At last Japanese edition of this masterpiece has been brought out! It is accompanied with 80 page tab/music booklet!
This complete lesson is for beginners & the intermediate!
And such a low price!!@with tax \3,990iwithout tax \3,800j
"You're serious about learning to play the guitar and now you can learn all of the basics and a lot more from the master himself. You'll have hours of fun playing along with Chet on well known songs like "Yesterdy", "Jambalaya", "Country Roads", "Greensleeves", "Yankee Doodle/Dexie" and so on.
"For each song you'll learn the chords, the melody, plus some of Chet's hottest licks. Tips on tuning, changing chords, fingerpicking, lefthand exercise and much more are carefully explained. Split-screen close-ups let you see exactly how each phrase is played. This complete video lesson can be recommended generally to the beginers and the intermediate and lets your skill step up.
*
VHS/ Color / Japanese subtitles / with 80 page tab/music booklet / 60-min
< TAB-00051 > price with tax 3,990 yen (price without tax 3,800 yen)