---
"Basic Country Flatpicking Guitar"
---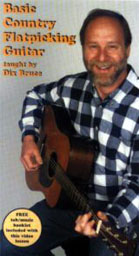 Taught by Dix Bruce
"Mother Maybelle Carter's playing in Cater Family's recordings of 1920s pioneered all traditional country guitar music. Her technique is combination of lead and rhythm guitar playing, and the roots of country flatpicking guitar. Dix Bruce, well-known for lots of the excellent guitar instructional books, carefully teaches nine classic country standerds.
"The contents of this lesson are the basic "bass note/strum" technique, how to play "lead/backup" style in a variety of different keys and how to transpose from one kye to another key. This guitar style which spans straight ryhthm backing and lead guitar can be applied to even rock and pop music. So, your playing will progresses infallibly.
*
VHS / color / Japanese subtitle / with tab/music of all tunes / 79-min
Titles include: Worried Man Blues, Lonesome Valley, Handsome Molly, Redwing, Wildwood Flower, Bury Me Beneath the Willow, The Storms are on the Ocean, John Hardy and Jimmie Brown the Newsboy
< TAB-00053 > price with tax 4,410 yen (price without tax 4,200 yen)
---
"Basic Swing Guitar"
---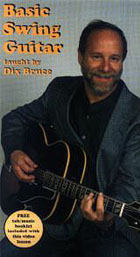 Taught by Dix Bruce
"Swing and Jump Swing music and dancing has enjoyed a phenomenal popular resurgence in the last few years. Both the current and classic bands build their sound on swinging guitar rhythms. In this video lesson, Dix Bruce will teach you all the basics that you need to know in order to play this energetic music; Moveable chords, How to get that "swing feel", Right and left hand technique, and much more. You'll learn eight carefully chosen and extremely well-known songs that every swing musician plays.
"Dix starts you off with easy-to-learn two and three chord songs and gradually works through some of the greatest hits of the era with more advanced chord changes in the key of G, Am, F, Bb and Ab. By the end of the session you'll know swing and jazz chord forms and be able to transpose thousands of songs. When you finish with this lesson you will have the confidence and basic tools to play with any swing or jazz band.
*
VHS / Color/Japanese subtitle / tab/music & diagram / 84-min
Titles include: Take Me Back to Tulsa, Minor Swing, Careless Love, Sweet@Georgia, Brown, Honeysuckle Rose, Blues in Bb #1, Blues in Bb #2, Rose Room and I Got Rhythm.
< TAB-00054 > price with tax 4,410 yen (price without tax 4,200 yen)
---