---
"Bluegrass Lead Guitar"
- Fiddle Tunes, Crosspicking & Blues -
---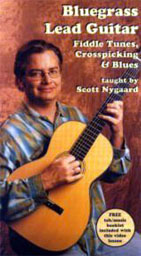 Taught by Scott Nygaard
¥The music of Bill Monroe and his Blue Grass Boys defines bluegrass, and while the guitar was originally confined to a rhythm instrument in Monroe's band, it has become common, in the last decade or so, for bluegrass guitarists to fill the lead function as well. The original instruments in Monroe's band have provided the template for guitarists wishing to play solos on bluegrass tunes. Bluegrass guitar solos are primarily a mixture of influences from those instruments: fiddle (fiddle tunes), banjo (crosspicking), and the blues (Monroe's mandolin).
¥In this video lesson, renowned guitarists Scott Nygaard guides you through the old-time fiddle tune "Little Billy Wilson", a crosspicking arrangement of "Home Sweet Home", a melodic solo on the blues song "Trouble in Mind" and shows you how to combine these influences when creating a solo on a bluegrass tune like "East Virginia Blues". Scott exlains in detail the techniques needed to master the bluegrass lead guitar style and the ideas behind his arrangements. Split-screen close-ups let you see exactly how each phrase is
played.
*
VHS / Color / Japanese subtitles / with tab/music of all tunes / 75-min
Titles include: Little Billy Wilson, Home Sweet Home, Trouble in Mind and East Virginia Blues
< TAB-00055 > price with tax 4,410 yen (price without tax 4,200 yen)
---