---
The Guitar of Blind Blake
---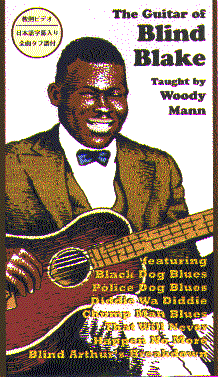 Taught by Woody Mann
¥Blind Blake was the premier ragtime blues guitarist of 1920s. He extended the alternating bass style, that was popular at the turn of the century, to encompass the dance trends and more complex blues ideas that were emerging from the jazz bands of New Orleans and Chicago. His playing featured unique right hand thumb rolls that evoked the feel of the Chaleston dance-step. Rev. Gary Davis greatly admired Blake's playing and used to remark that Blake had a "sportin' right-hand". Blind Blake influenced generations of country blues guitarists and was never equalled. In this unique video lesson, Woody Mann explores the ideas, techniques and style of this legendary guitarist deeply.
*
VHS / Color / Japanese subtitles / with tab/music of all tunes / 94-min
Titles include: Black Dog Blues, Diddie Wa Diddie, Chump Man Blues, Police Dog Blues, That Will Never Happen No More and Blind Arthur's
Breakdown.
< TAMT-00037 > price with tax 6,090 yen (price without tax 5,800 yen)
---
The Guitar of Big Bill Broonzy
---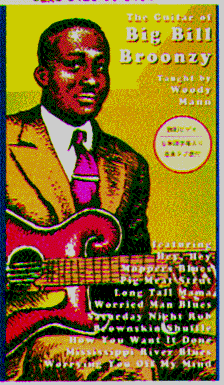 Taught by Woody Mann
¥Big Bill Broonzy is a historical bluesman whose recording career sanned from 1927 until his death in 1958. His repertorie was well recorded, from solo to duets to ensemble playing. He was rediscovered just as the "folk-revival" began in the early 1950s. Big Bill was a master of ragtime and country blues guitar. His playing was highlighted by a strong pulsating bass and melodic lead lines. Woody Mann carefully explains Big Bill's techniques and style in this video lesson. Also presented in this video lesson is rare footage of Big Bill from the 1950s.
*
VHS / Color / Japanese subtitles / with tab/music of all tunes / 90-min
Titles include: Long Tall Mama, Saturday Night Rub, Moppers Blues, Hey Hey, Pig Meat Strut, Brownskin Shuffle, Worried Man Blues, Mississippi River Blues, Worring You Off My Mind and How You Want It Done.
< TAMT-00038 > price with tax 6,090 yen (price without tax 5,800 yen)