---
Chet Atkins
- Rare Preformance 1976-1995 -
---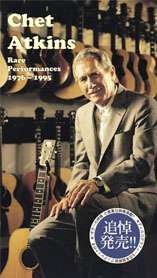 ¥For more than 40 years, the name of Chet Atkins has been associated with the finest Nashville-based fingerstyle guitar sounds. Even those records he did not play on showed his influence. Yet his own artistic growth never ceased, as is evident in this second volume of the chronological documentation of Chet's career. We see this gentle genius exploring the music of Bob Dylan (Don't Think Twice It's All Right), marching band composer John Phillip Sousa (Stars and Stripes Forever), pop standards (Lover Come Back) and progressive funk (Knuckle Buster). Chet's tonal palette draws varied colors from electric guitars, nylon-strung classics, and even a resophonic guitar. Foremost in this collection are his traditional strengths as a tasteful soloist, but we also see him swap licks with the fiery Jerry Reed and Larry Carlton. The overall impression made by these performances is one of a master quietly demonstrating his continued primacy in his field and doing so with a calm assurance unabated by needless grandstanding.
*With the booklet featuring
Japanese comments and Chet's discography
*
VHS / color / Japansese subtitles / 71-min
Titles include:

Pop Goes The Country, 1976
¥I'll Say She Does
Pop Goes The Country, 1977
¥Hawaiian Wedding Song
Soundstage, 1978
¥Cascade
¥Don't Think Twice It's All Right
¥Kentucky
¥Stars and Stripes Forever
Pop Goes The Country, 1979
¥You Needed Me
¥Dance With Me
Pop Goes The Country, 1980
¥Malaguena
Pop Goes The Country, 1982
¥Sukiyaki
¥Me and Bobby McGee


Austin City Limits, 1987
¥Knuckle Buster
Austin City Limits, 1991
¥Blue Angel
¥I Still Can't Say Goodbye
Merle Watson Festival, 1992
¥Rainbow
¥There'll Be Some Changes Made
¥Yankee Doodle Dixie
¥Medley: Windy & Warm
/Mr. Sandman
/Wildwood Flower
/The Bells Of St. Mary's
/In The Good Old Summertime
/Freight Train /Yakety Axe
¥Young Thing
At Chet's Home Studio, 1995
¥Happy Again
¥Lover Come Back
< TAMT-00064 > price with tax 5,040 yen (Price without tax 4,800 yen)
---
Chet Atkins
- Rare Preformance 1955-1975 -
---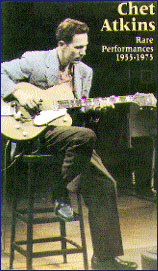 ¥The giant of country scene Chet Atkins is respectfully desclibed as "Mr. Guitar", "God of Guitar", etc.. He began Nashuville sound and made the largest conrtibution to it. This video is filled with his wonderful performances at the peak of his creativity and influence, so to speak, the pride of his life! His expressive and artistic fingerpicking playing will surely impress you and give ease to you.

*
With the booklet of comment translated into Japanese
*VHS / Mnochrome and color / Japansese subtitles / 58-min
*Wiht tab and playing explanation (written in Japanese) for "Muskrat Ramble"
Titles include: 1. The Poor People Of Paris(1955) 2. Side By Side(1955) 3. Makin' Believe(1955) 4. Villa(1958) 5. Say Si Si(1958) 6. Levee Walking(1963) 7. Wildwood Flower(1963) 8. Yes Ma'am(1963) 9. Malaguena(1963) 10. Medley:Greensleeves/Streets Of Laredo(1963) 11. Peanut Vendor(1963) 12. Tiger Rag(1963) 13. Alhambra(1973) 14. Black Mountain Rag(1973) 15. Medley:Windy & Warm/Back Home In Indiana/Country Gentleman/Mr. Sandman/Wildwood Flower/Freight Train(1973) 16. Medley:The Three Bells/I Can't Stop Loving You/Java/He'll Have To Go/When You're Hot You're Hot/Oh Lonesome Me(1973) 17. Just Another Rag(1973) 18. Mr. Bojangles(1973) 19. Missionera(1973) 20. Wheels(1973) 21. Muskrat Ramble(1973) 22. Vincent(1975)
< TAMT-00013 > price with tax 5,040 yen (Price without tax 4,800 yen)