---
Martin Taylor In Concert
---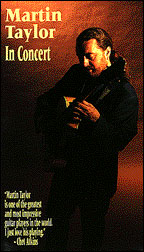 ¥This is the live performance video of Martin Talor, an expert on fingerstyle jazz guitar praised by many guitarists like Chet Atkins, Stieve Haw, etc.. He plays familiar masterpieces as complete solo tunes perfectly. His marvelous fingerpicking to play melodies, base lines and chords all at once and to ad-lib skillfully is a must! This video is filled with unbelievable playings which have you amazing and involuntarly saying why he can play like this alone. This video is strickly recommended to fingerstyle guitar & jazz fans.
*
VHS / Color / Japanese subtitles / 75-min
*With complete tab and explanation(in Japanese) for "Geogia on My Mind"
Titles include: 1. Georgia, 2. I Got Rhythm, 3. Can't Take That Away From Me, 4. In A Mellow Tone, 5. Why Did I Choose You, 6. The Dolphin, 7. Medley: Dixie/Old Man River, 8. Sweet Lorraine, 9. Stella By Starlight, 10. Lulu's Back In Town, 11. I Remember Clifford, 12. Taking A Chance On Love
< TAMT-00027 > price with tax 5,040 yen (price without tax \4,800 yen)