---
The Art of Fingerstyle Guitar
---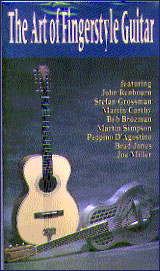 ¥On this video great performances suited to call "arts" are recorded! Also you can enjoy it as sequel to popular "Fingerpicking Guitar New Dimensions & Explorations". Bob Brozman is well-known for his miraculous slid techniques. Peppino D'agostino is a new star of new age guitar. Stefan Grossman and John Renbourn have led in the world of fingerpicking all the time. And then many acoustic guitar masters like Martin Simpson, Duck Baker, Martin Carthy, Brad Jones, Joe Miller, etc. appear on this.
*
With the booklet of coment translated into Japanese
*Tab and playing explanation(in Japanese) for "Sheebeg An Sheemore"
Titles include: STEFAN GROSSMAN Sheebeg An Sheemore BOB BROZMAN Hawaiian Greetings BRAD JONES Funky Fingers MARTIN SIMPSON Lord Gregory, Bob's Song PEPPINO D'AGOSTINO Grand Canyon JOHN RENBOURN Lament For Owen Roe O'Neill, Mist Covered Mountains Of Home, The Orphan MARTIN SIMPSON & BOB BROZMAN Bentonia MARTIN CARTHY Seven Yellow Gypsies STEFAN GROSSMAN & DUCK BAKER Danish Drone JOE MILLER Lime Rock PEPPINO D'AGOSTINO Ponteio BOB BROZMAN Steel Guitar Stomp 13. JOHN RENBOURN Sweet Potato MARTIN SIMPSON & BOB BROZMAN Chimes Of Timbuktu
< TAMT-00006 > price with tax 5,040 yen (price without tax 4,800 yen)