---
Northern Sky, Southern Blues
Stefan Grossman & Duck Baker
---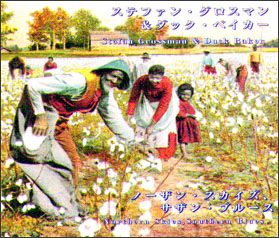 ¥This is a new guitar duet albumn recorded by the two gaints of fingerpicking scene Stefam Grossman and Duck Baker. On one hand Stefan builds his country blues guitar techniques which he has derived from legendary blusemen directly and developed his unique sound; on the other, Duck is a topliner of fingerstyle jazz and Celtic fingerstyle guitar. This albumn is full up wiht harmonious and exciting playings which make you say "Great!!"

¥This albumn includes 14 duet & solo guitar instrumentals tempering traditional music like blues, ragrime, gospel, jazz, folk, etc. with spice of contemporary. It is a MUST for fingerpickers!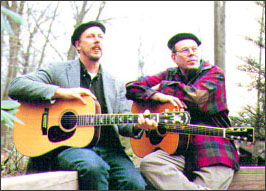 *As the prerogative of TAB Guitar School label release, the complete tab/music for Stefan's new song "Northern Skies, Southern Blues" is featured! (transcribed by Tokio Uchida)
Titles include: 1. Big Bill's Shuffle 2. Just A Closer Walk 3. Northern Skies, Southern Blues 4. Blues For The Mann (MP3 / 940K) 5. Old Country Rock (MP3 / 940K) 6. Hicks' Farewell 7. Jacksonville Blues 8. M & O Blues 9. Back Home In Indiana 10. Freight Train 11. Shake Sugaree 12. Nobody's Business 13. Diddie Wa Diddie 14. Medley: Franklin Blues & Buck Dancer's Choice
< TAB¥CD-1002 > price 3,024 yen
---
Shake That Thing
Stefan Grossman / Fingerpicking Country Blues Guitar
---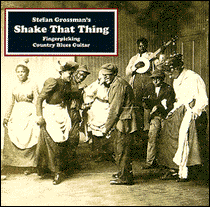 ¥This fingerpicking solo albumn is the corpus of acoustic guitar authority Stefan Grossman's exploration into blues guitar! In this highly motivated albumn, he develops his sound by connecting various guitar techniques derived from legendary bluesmen and by incorporating ideas for the improvisation into it. A variety of scenes of ragtime style, Mississippi Delta style, Texas style, Memphis style and so on will spread out and take you to the blues world. 17 tunes are included.
Titles include: 1. Yazoo Strut 2. Monkey Wrench Rag (MP3 / 940K) 3. Spider Web Blues 4. Crossed Canoes (MP3 / 940K) 5. Death Come Creeping 6. Welsh Cob Blues 7. Square And Compass 8. Shake That Thing 9. F Rag 10. Candyman 11. C.C. Rider 12. Goose Tracks 13. House On The Hill 14. All My Friends Are Gone 15. Drunkard's Path 16. Kaleidoscope Rag 17. Delia
< TAB¥CD-1003 > price 3,024 yen
---
AKI /Jimi's Spirit Of Acoustic
---
¥The new type acoustic fingerstyle guitarist having Jimi Hendlix's spirit has appeared! His name is AKI. His sound is aggressive and mellow. Please feel the spirit gushing from his fingertips! 11 fingerstyle guitar instrumentals are included!
<AKI's Profile>
He began the guitar as he had yearned for Presley. He gave many concerts in avant-grade-music bands like Countdown. However, since he was impressed by Peter Finger's playing, he has dedicated to acoustic guitar. In 1998 He recorded his original tunes at the studio of Acoustic Music label.
Titles include: 1. "Omlete at 5 a.m., 2. How I feel Now, 3. Kiss Of Dragon Clouds, 4. Kohzan with Cloud River, 5. Kimigayo (Japanese National Anthem), 6. Iga No Ranmaru, 7. Maki, 8. Jimi's Spirit Of Acoustic, 9. Ballad For You (MP3 / 940K), 10. Dear Preston, 11. Akio
< TAB¥CD-1006 > price 3,024 yen
AKI has set up his web pages. Sound samples and information of his concerts are appearing in it. Please drop it. (Please click here.)
---
Been Here and Gone
Woody Mann, Jo Ann Kelly & Son House
---
At last the jam sessions which the acoustic guitar master Woody Mann recorded in his youth with blues legend Son House and Jo Ann Kelly have seen the light of day!! This remarkable new albumn includes many unpublished takes.

The prerogative of only Japanese edition (by TAB label)!
With the booklet of words of all songs / With the tab/music for three instrumentals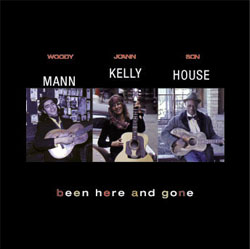 ¥Woody Mann is well known for TAB label videos like "The Guitar Of Blind Blake", "The Guitar Of Big Bill Broonzy", etc.. He is a great guitarist who has the techniques directly learned from Rev. Gary Davis and the wide variety of musicality.
¥In his youth, he left a lot of recordings from 1971 to 1972 with two dead blues singer: the legendary Delta bluesman Son House and the female great blues singer Jo Ann Kelly. the exciting jam sessions and new instrumentals are gathered into this new albumn.
¥This CD is a MUST filled with highlights such as Son House's highly forceful vocals, Jo Ann Kelly's soulful & powerful vocals and Woody's genuine fingerpicking blues playing, etc.. - 21 tunes / 60-min!
Titles include: 1. 4 O'clock 2. Sun Going Down (MP3 / 944K) 3. Green River(instrumental) 4. Come to Die 5. Been Here and Gone(instrumental) (MP3 / 944K) 6. Henry Millers Dream 7. Jo's Mistreated Blues 8. Bothering That Thing 9. Travelling Solo(instrumental) 10. King Street 11. Baby Where You Been 12. For Son(instrumental) 13. Blues Ain't Nothin' 14. Come To Die - Son's take 15. Slow Motion(instrumental) 16. Rolling Log 17. Pigmeat (MP3 / 940K) 18. Sour Jive(instrumental) 19. New Stockyard Blues 20. Drunken Barrelhouse 21. Coda for Jo(instrumental)
< TAB¥CD-1007 > price 3,024 yen
---
Takashi Hamada / Climax Rag
Classic Rags 1899-1999
---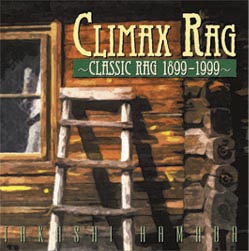 "ragtime guitar" solo albumn released for centennial of the publication of "Maple Leaf Rag" has been completed!
¥Takashi Hamada has explored ragtime music and ragtime guitar styles for a long time, who has released this long-awaited new albumn for centennial of the publication of "Maple Leaf Rag". He arranged the well-known masterpieces like "The Third Man's Theme", "The Entertainer" and his two original rags for solo acoustic guitar admirably! This is a MUST for ragtime fans and fingerstyle guitar fans. Please enjoy his outstanding techniques and the cheerful & lyric musicality.B
= = = Produced by Tokio Uchida = = =
"No one can equals Takashi in the outstanding guitar techniques and in the passion for ragtime music. I believe this albumn will convey such energy to you."
Titles include: 1. The Third Man's Theme, 2. The Chrysanthemum, 3. Ranshima, 4. The Entertainer, 5. Sunburst Rag, 6. Swipesy, 7. The Nonpareil, 8. Climax Rag (MP3 / 940K), 9. Kinklets (MP3 / 956K),10. Soup Curry, 11. Peachering Rag, 12. Evergreen Rag, 13. Maple Leaf Rag (MP3 / 940K), 14. The Easy Winners
< TAB¥CD-1008 > price 3,024 yen
*And also the complete tab/music book (TAB¥BK-1008) for this albumn is on sale. Takashi transcribed all tunes down exactly and explained his playing & his own unique tuning (in Japanese). How about enjoying playing after listning? - modified A4 size / 80 pages
Takashi Hamada has set up his home page. It is filled with solid contents: ragtime music, introduction of his works, Ainu, information of the concert, etc.. Please drop in. (Please click here.)
---
Duck Baker / My Heart Belongs To Jenny
- a collection of Irish tunes arraneged for solo guitar -
---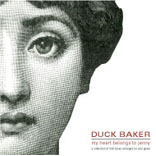 This new albumn is just like the corpus of the exploration of Irish guitar by the prince of fingerstyle guitar scene, Duck Baker. It is full of pure and lyrical acoustic guitar solos!
¥You will be fascinated by the impressive and beautiful melodies of slow airs and hornpipes, the dancing beat of jigs, the reels played on rhythmical alternating bass, the folky and melodious Planxty and so on. Duck's own excellent arrangements features a lot of ornaments and counterpoint lines. In this impressive acoustic guitar instrumental album, Duck explores the essence of Irish music! 16 titles including medleys are recorded.
Titles include: 1. My Heart Belongs to Jenny 2. Pretty Girl Milking a Cow (MP3 / 956K) 3. Banish Misfortune 4. Polly Put the Kettle On (MP3 / 940K) 5. John O'Dwyer of the Glen/The Plains of Boyle 6. The Joy of My Life/The Banks of Lough Gowna 7. Little Beggar Man/Sandy River Belle 8. Little Brown Jug - Market Girls 9. Oliver Goldsmith's Lament 10. Charles O'Connor 11. Huggerth the Puss 12. The Blackbird and the Thrush 13. Swedish Jig (MP3 / 940K) 14. Temperance Reel/The Green Fields of America 15. The Bonnie Bunch of Roses 16. Catholic Bill's Jig/Planxty Sweeny
< TAB¥CD-1010 > price 3,024 yen
---
AKI / Acoustic Rock Guitar
-AKI's fingerstyle solo guitar-
---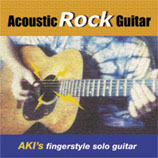 ¥This is the longed-for 2nd CD of groovy guitarist, AKI. It features 14 acoustic guitar instrumentals, which are so powerful and melodious that we can't imagine that he fingerpicks by himself. Enjoy the exciting world of AKI who is trying to conflate "rock feeling" and "Japanese flavor".
Titles include: 1. St. Osnabruck -Thank You Peter- 2. Alpen 206 3. Finger Train 4. Leave Me To The Guitar 5. Kanae 6. Acoustic Rock Guitar 7. Mariano 8. Father's Chair 9. Gypsy Manitas 10. Lullaby Of Kenny 11. Sakura/Suna no Shiro 12. Hello Bongo 13. Lapped In Love 14. Symphony Of Serenade
*And also the tab/music book (TAB¥BK-1011) for this albumn is on sale. AKI transcribed and explicated 21 tunes seleced from this CD and his 1st CD:Jimi's Spirit Of Acoustic for this book. Also, it features the chord diagrams and the story of the partial capo and his own unique tuning (in Japanese). How about enjoying playing after listning? - modified A4 size / 96 pages.
< TAB¥CD-1011 > price 3,024 yen
---
Duck Baker & Jamie Findlay / Classic Jazz Guitar Duets
---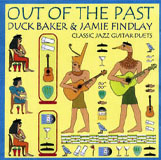 The collection of jazz guitar duets and solos by two giants of today's acoustic guitar music world, Duck Baker & Jamie Findlay
¥Duck Baker is known for his incredible guitar techniques and his wide musicality from swing to jazz, gospel and celtic music. He is very popular in Japan as he has released a lot of instructional videos from TAB label and he had several Japan tour which were organized by our company. And Jamie Findlay is one of the best contemporary acoustic jazz players. He is so great that he sometimes compared with Ralph Towner and Pat Metheny.
¥This CD features historical jazz standards such as "Take the A Train" and "All Of Me". Duck and Jamie plays them thrillingly and delightfully. It is a very enjoyable album.
Titles include: 1. Take the A Train (Billy Strayhorn) 2. Collard Greens and Black Eyed Peas (Osker Pettiford) 3. Out of the Past (Benny Golson) 4. The Jody Grind (Horace Silver) 5. The Jitterbug Waltz (Fats Waller) 6. Joy Spring (Clifford Brown) 7. Topsy (Eddie Durharn, Edgar Battle) 8. In a Sentimental Mood (Ellington, Kurtz, Mills) 9. Wolverine Blues (Jelly Roll Morton) 10. One for Myrtle (Tina Brooks) 11. All of Me (Gerald Marks, Seymour Simons) 12. Well, You Needn't (Live) (Thelonious Monk)
< TAB¥CD-9001 > price price 3,024 yen
---